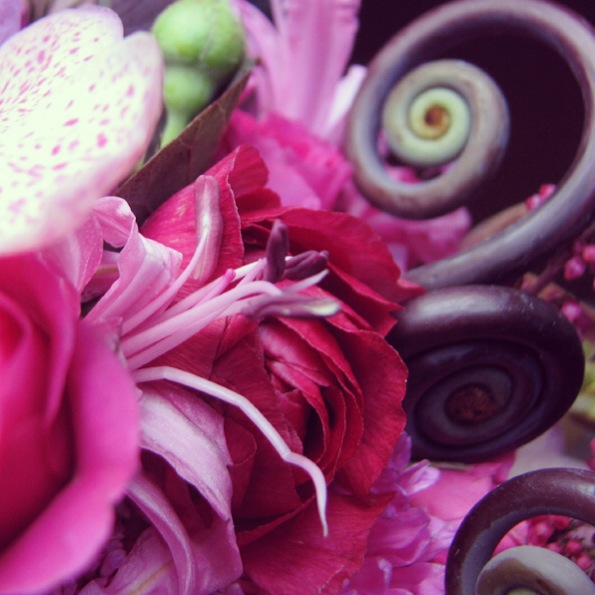 VALLEY FLOWER COMPANY
is a small brick and mortar flower shop located in White River Junction, VT. Open since 2005, we strive to make unique, textural, gorgeous flower arrangements for both events and our daily walk-in customers. With a strong love of local product and unusual blooms, we aim to make arrangements that are modern without being too trendy. We believe that sophistication and whimsy should live harmoniously in every arrangement we make. Each arrangement we send out is made custom to our client's requests, so you can be assured that no two arrangements that leave our shop look alike. (Unless, of course, that is your request...) We are obsessed with freshness and quality, and you can be assured that everything we create has been handled with the utmost care. We are relaxed, enjoy a good giggle, and operate in a no pressure atmosphere, and believe that ordering flowers should be as fun as the final product.
MORGAN PERRONE
Valley Flower Company's owner and lead designer. With twelve plus years in the floral industry and a strong emphasis on fine arts and graphic design Morgan is known for her keen sense of color and whimsy. Morgan mixes textures and colors that the average person might naturally shy away from. Her passion and love for flowers and color sends her on the never-ending quest to find the most interesting product in the market. She also loves toast, is far less serious then this photo conveys and is regularly wearing weird shoes.
REBECCA
has been employed with Valley Flower Company since spring 2010. Working closely with Morgan she is an integral part of the family, and keeps the shop in top top shape. She is our resident funny-face maker, and is always willing and ready to make us laugh.
EMILIE
Our resident kind soul, horse mama, and regular weirdo, Emilie is always quick to dance to a catchy beat, and tell a dirty joke. Emilie is usually the first person to go above and beyond to make somebody's day.
JESS
The human ray of sunshine, Jess is bubbly and funny and loves a good giggle. Mama to Elkie (our tiny florist in training), Jess loves a good "nature treasure", a craft or anything creative to keep her busy. Chances are, if you call the shop and you speak to Jess, you'll get off the phone smiling.
TONY PERRONE
is Valley Flower Company's resident problem solver, and delivery driver. Morgan's father and super awesome guy, is always quick with a witty comment and a helping hand.
MARGOT PERRONE
is who keeps the shop trucking along. Always cleaning, organizing, and keeping things moving. Margot is Morgan's mom and all around shop cheerleader. Margot is always there with positive advice, and her full support. She also happens to have more energy then all of us combined.